Edgbaston - Greenfield Crescent
How to find our Edgbaston physiotherapy clinic
Our clinic is situated on Greenfield Crescent above Loki Wine & Delicatessen and opposite the Village Kitchen. The entrance is at the rear of the building.
Parking
Parking is available at the rear of the building. The car park is accessed from Highfield Road via the CARE Fertility car park (postcode B15 3DP).
Other transport options
Buses stop on nearby Harborne, Highfield and Calthorpe Roads, and Five Ways train station is around 0.6 miles from the clinic.
Disabled access
There is disabled access to the building and a lift to the treatment room on the first floor. There is a disabled parking space in the car park at the rear of the building.
What to do on arrival
Press 1 and then the bell button on the intercom to be buzzed in to the clinic. Please report to reception on arrival and let them know you have arrived for your appointment with Ascenti.
Useful contact information
Please call us directly on 0330 678 0850 if you need to speak to us about your appointment.
First Floor (entrance at rear of building), 10-11 Greenfield Crescent , Edgbaston, B15 3AU
Book now
Give us a call: 0330 678 0850
Send us a message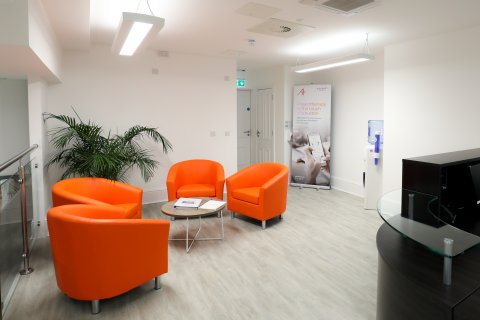 Choose the most relevant option for you
Prices
You're a new or existing customer looking to pay for treatment yourself or with private medical insurance. Prices vary based on additional services and location.
Appointment length - 30 minutes
Recognised by these Insurers and many more: