Light Centre Monument
How to find us by car
Our clinic is situated in the basement of the Light Centre Monument building in St Mary at Hill, opposite Jamie's Wine Bar and Restaurant and St Mary at Hill Church.
Parking
There is no parking at the Light Centre Monument or on St Mary at Hill. The nearest parking is at the NCP London Vintry Thames Exchange, a ten minute walk away.
Other transport options
Buses stop on adjacent road to our clinic and the nearest tube station is Monument Underground Station a ten minute walk away.
Disabled access
Disabled access is available through an alternative entrance in the building. Please let us know if you require disabled access when you book your appointment and we will notify the centre for when you arrive. Disabled parking is available on St Mary at Hill very close to the building.
What to do on arrival
Please go downstairs to our waiting area and our therapist will collect you for your appointment.
Useful contact information
Please call us directly on 0330 678 0850 if you need to speak to us about your appointment.
36 St Mary at Hill, Billingsgate, London, EC2R 8DU
Book now
Give us a call: 0330 678 0850
Send us a message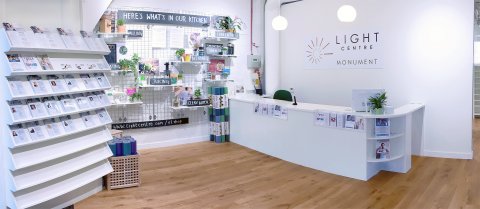 Choose the most relevant option for you
Approved by all major insurers