London - Harley Street
How to find our Harley Street physiotherapy clinic
Our clinic is situated in Marylebone, in the ground floor seminar room of 76 Harley Street. The building is located in the vicinity of the Regent's Park, near to the Polish embassy and Royal Institute of British Architects.
Parking
Pay by phone parking is available on Harley Street. The nearest pay and display car parks are Q-Park on Queen Anne Mews, W1G 9HF or the NCP car park on Weymouth Mews, W1B 1QE.
Other transport options
Our physiotherapy clinic is well connected with several local transport links. Buses stop on nearby New Cavendish Street and Portland Place. Regent's Park, Great Portland Street, Bond Street and Oxford Circus stations are all a ten minute walk away.
Disabled access
There is no disabled access into the building or our clinic room. Disabled parking is available on Harley Street, however please check parking notices for any restrictions.
What to do on arrival
Please report to reception on arrival and let the receptionist know that you have arrived for your physio appointment with Ascenti.
Useful contact information
Please call us directly on 0330 678 0850 if you need to speak to us about your physiotherapy appointment.
You can find out more about our central London clinics here.
76 Harley Street, Marylebone, London , W1G 7HH
Book now
Give us a call: 0330 678 0850
Send us a message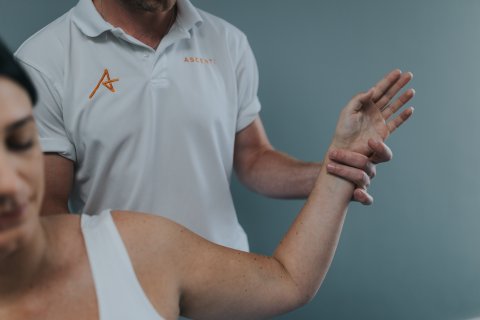 Choose the most relevant option for you
Approved by all major insurers